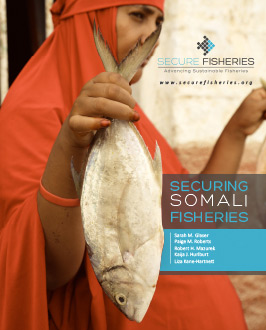 RELEASE DATE:
16 September 2015
AUTHORS:
Sarah M. Glaser, Paige M. Roberts, Robert H. Mazurek, Kaija J. Hurlburt, Liza Kane-Hartnett
OVERVIEW:
Securing Somali Fisheries is the most comprehensive study of the Somali fishing sector to date. It reveals new information documenting the negative impact of illegal, unreported, and unregulated (IUU) fishing by foreign vessels on the sustainability and profitability of Somali fisheries. This report sheds light on the status of Somali fisheries resources while identifying opportunities for Somalis to combat illegal fishing, protect commercially important stocks, and improve fisheries governance to promote stability and income security. Securing Somali Fisheries highlights ways for the international community to move away from unhindered exploitation of Somali resources and toward supporting Somalis in their quest for sustainable fisheries. Using the new information presented in this report, we will work with local, regional, and international partners to strengthen fisheries management, guide investment in fisheries resources, and improve Monitoring, Control, and Surveillance (MCS) efforts in the Somali maritime domain. 
Securing Somali Fisheries fills the data gap that has existed for decades. There have been no scientific surveys of Somali marine resources since the 1980s, yet the fishing sector has grown substantially, especially the presence of foreign boats. Relying on outdated estimates of fisheries production has fed the dangerous and false assumption that Somali waters are unexploited and pristine. Additionally, prior to this report, there were no accurate estimates of the amount of foreign fishing in Somali waters. Accounts of foreign vessels were anecdotal and therefore did not carry enough weight with the international community to lead to strong deterrent action. Our report provides Somalis with a basis to substantiate these claims and the knowledge to manage domestic and foreign fishing effectively.
Document Citation:  http://dx.doi.org/10.18289/OEF.2015.001